Course Review and Map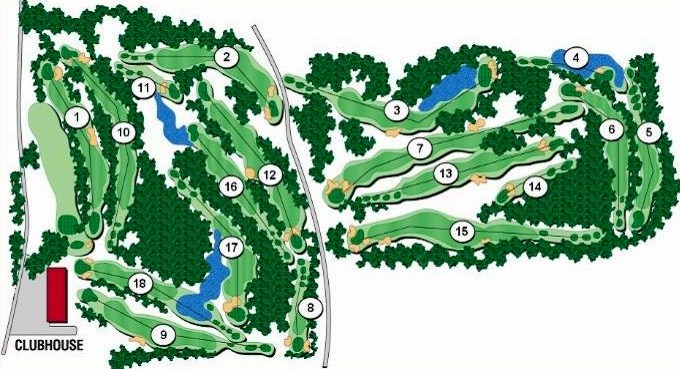 Berkeley Hills Country Club's golf course is first rate, with the course among the most enjoyable of Atlanta's private clubs, nicely meshing the frequently clashing concepts of challenge and playability.
The golf course makes up for its modest yardage with some narrow corridors and one of the most demanding sets of green complexes in the metro area. The greens are not especially large, but have more than their share of slope and when rolling at typical tournament speed, will challenge those who make the mistake of leaving their approach shot or chip above the hole.

With an exception or two, the tree lines bordering the fairways are not very thick, but those who venture into them may find it harder to get back into position than they would like. Those finding the fairways off the tee will be presented with plenty of scoring opportunities, as only two of the par 4s are longer than 406 from the tips and two of the par 5s are easily reachable in two for longer hitters, with the other two open and inviting, if a bit longer. The 505-yard third is among the most interesting holes on the course, with water down the left side very much in play off the tee, and extending all the way to the green. The landing area between water and trees is minimal and any pin cut close to the water will make even a short pitch potentially perilous. Although water is in play on several more holes, it will not be a major factor with the relatively narrow fairways and sloping greens, the main defenses for the course.

Most of the putting surfaces are well-protected by relatively deep bunkers, with the deft sand game necessary for those who attempt to challenge tucked pin positions. The golf course is a thoroughly entertaining, well-conditioned challenge for its members.